Volunteers Wanted
Help coordinate a new season of screenings at our community cinema and help us to restart our successful community cinema
No previous experience necessary, whether you would like to help as volunteer, usher/usherette or at the box office. Just some enthusiasm, a little spare time and willingness to have fun and meet new people.
Reel Rowsley
Our lovely village has its own community cinema based at the village hall: Reel Rowsley, which was set up in June 2019 following a successful grant application to Duke of Devonshire's Charitable Trust (DDCT).
This included funding for the retractable screen and projector, new blackout curtains and other start-up costs. The sound system was covered by the BIG National Lottery Reaching Communities grant.
The first trial event took place in July 2019 when we screened The Wizard of Oz), which coincided with Rowsley Well Dressing Week. Both events celebrated the 80th anniversary of the release of The Wizard of Oz, which premiered in 1939.
Since then the community cinema has run a number of subsidised family matinees and evening screenings, including gin and Prosecco bars.
[Image: taken during last year's screening of Downton Abbey]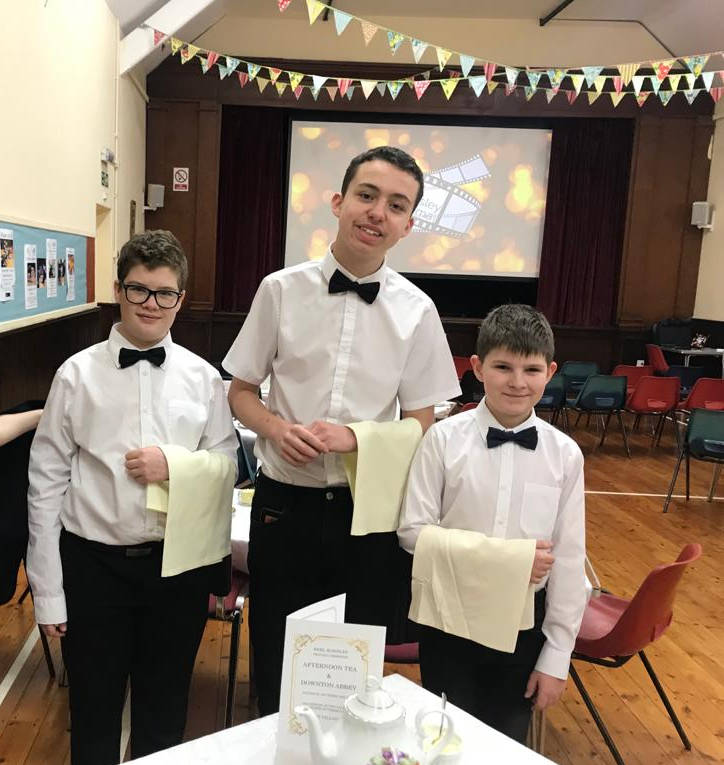 Downton Abbey February 2020 Review
Following such a successful screening of Downton Abbey (with afternoon tea) where the whole community came together for a wonderful afternoon, it seems strange to be writing this as we are having to distance from each other because of the Covid-19 health crisis.
29 February 2020, we came together as a community for our first 'Sold Out' screening since we launched last summer. We would like to thank our wonderful volunteers, who all looked very 'dapper' for the occasion. What was really very special, was the fact that we had young and old (and lots in-between) coming together for an event.
The youngsters had the opportunity of some valuable work experience and did a fantastic job of welcoming guests and seating them at their tables. The older generation had an opportunity to be treated to a special event on their doorstep, with one of our customers (95 years old), re-visiting the village hall where she used to play as a child. And the ones in-between enjoying a glass of Prosecco after service and even enjoyed the washing up at the end of the day!
An extra special thank you to Sally Shuttleworth and her daughter Beth, who catered the event, and as some customers commented: "[the food] rivalled that of many stately homes". Also a big thank you to Dianne Hewitt, who kindly loaned us use of the vintage tea sets (all of which were returned in mint condition!).
Some feedback below:
"It was fantastic. Thank you all so much. A tremendous idea perfectly executed. The afternoon teas were excellent, the "staff" were wonderful, the film was great and overall it was the most memorable visit to a cinema I have experienced"
"Thank you so much, what a wonderful afternoon we had. The food was amazing, so fresh and tasty. The service from the staff was very friendly and professional  especially the youngsters they did so well, so confident and polite. The whole set up was great and worked well"
We could not have been more pleased with how our event turned out and we will definitely be planning similar events in the future.
Sadly, however, we have now had to postpone all future planned screenings until a later date due to government guidelines. The health of our community and the capacity of our wonderful National Health Service is our collective priority right now.
But rather than social distancing, let's call it physical distancing and social solidarity as we get through these strange times together.
We very much look forward to welcoming you back– now that will be a special screening…..x
If you would like to join our happy volunteer cinema event planners and ushers please contact us by email.